Een aparte vondst in het archief was deze brief gedateerd op 24 november 1914. Hij is afkomstig van de kapitein van het schip "HMS Russel" waarin wordt bevestigd dat grootvader Hendrik Vercnocke hielp bij de navigatie als loods ("Belgian Pilot") "during the operations off Zeebrugge", dus tijdens Wereldoorlog I:

De manier waarop de brief bewaard werd wijst op het belang voor de betrokkene: door het vele plooien scheurde de brief in drie. De afzonderlijke delen werden geplakt op een onderliggend vel briefpapier.
Bovenaan de brief is nog een ingedrukt watermerk (reliëf) merkbaar:
---
Waarschijnlijk gaat het om het officiële wapen van het Verenigd Koninkrijk ("Britse overheid"): links een klauwende leeuw, rechts een éénhoorn ("Honi Soit Qui Mal Y Pense"/"Dieu Et Mon Droit"):
---
De tekst van de brief:
H.M.S.  "Russel"
24th November, 1914.
This is to certify that M. Vercnocke, Belgian Pilot, was on board H.M.S. "Russel" from p.m. 22nd November until a.m. 24th November, and assisted in the piloting of the ship during the operations off Zeebrugge on the 23rd November. Draught of water of H.M.S. "RUSSEL" was 28 feet.
(signature: W. Bowden-Smith.)
CAPTAIN
---
Op het eerste gezicht niet zo opzienbarend, maar bij nader onderzoek openbaart deze brief toch heel wat informatie.
Ten eerste: op dat ogenblik bevond de hele familie zich al enkele weken in Engeland, getuige dit citaat uit de jeugdherinneringen van zoon Ferdinand:
"Maar toen sloeg het noodlot ook in ons eigen leven in toen wij zelf het ruime huis in de St Jorisstraat (Oostende) moesten vaarwel zeggen, alles achterlaten en inschepen naar Engeland… De loodskotters – niet al te ruime zeilschepen kregen ene onverwachte lading vrouwen kinderen koffers en haastig toegeknoopte bundels aan boord. Wij waren plots vluchtelingen op de dool naar een onbekend doel… De 14de oktober zeilden wij in de nacht de haven van Oostende uit. (…) Het was een echt konvooi dat Oostende op het laatste ogenblik ontglipt was."
De vermelding "op het laatste ogenblik" duidt op het jaartal 1914, zoals beschreven in de krantenartikels uit die tijd: op 14 oktober 1914 vertrok inderdaad het laatste konvooi uit Oostende.
Toch blijkt uit bovenstaande brief dat Hendrik de Engelsen als loods bijstond in november 1914. Misschien vervoegde zijn vader pas later de familie, of werd hij door de Engelse Marine opgeroepen omdat hij de wateren in het Kanaal, vooral voor de Belgische kust, op zijn duimpje kende.
Hendrik Vercnocke, loods
Ten tweede: de brief bevat ook informatie die wijst op oorlogshandelingen. Op de Wikipedia pagina van het bewuste schip vinden we een passage die expliciet verwijst naar de gebeurtenissen van 23 november 1914 uit bovenstaande brief. Er werden 400 granaten afgevuurd:
"The 6th Battle Squadron was given a mission of bombarding German submarine bases on the coast of Belgium, and Russell participated in the bombardment of German submarine facilities at Zeebrugge on 23 November 1914 in company with Exmouth. The two ships left Portland on 21 November accompanied by eight destroyers, a group of trawlers, and a pair of airships to observe the fall of shot, though the airships failed to arrive in time for the operation. Russell and Exmouth closed to 6,000 yards (5,500 m) of the port and shelled the harbour, the railroad station, and coastal defences. The two ships fired some 400 shells in total and observed several fires ashore; reports from Dutch observers indicated significant damage had been inflicted, but the attack achieved very little and discouraged the Royal Navy from continuing such bombardments."
Het schip vertrok op 21 november 1914 uit de haven van Portland, pas een dag later in de namiddag kwam Hendrik als loods aan boord, zo blijkt uit de brief.
HMS (= Her Majesty's Ship") Russel, bouwjaar 1903, bemanning ong. 800, 132m lang, 23m breed, een zgn "pre- dreadnought battleship":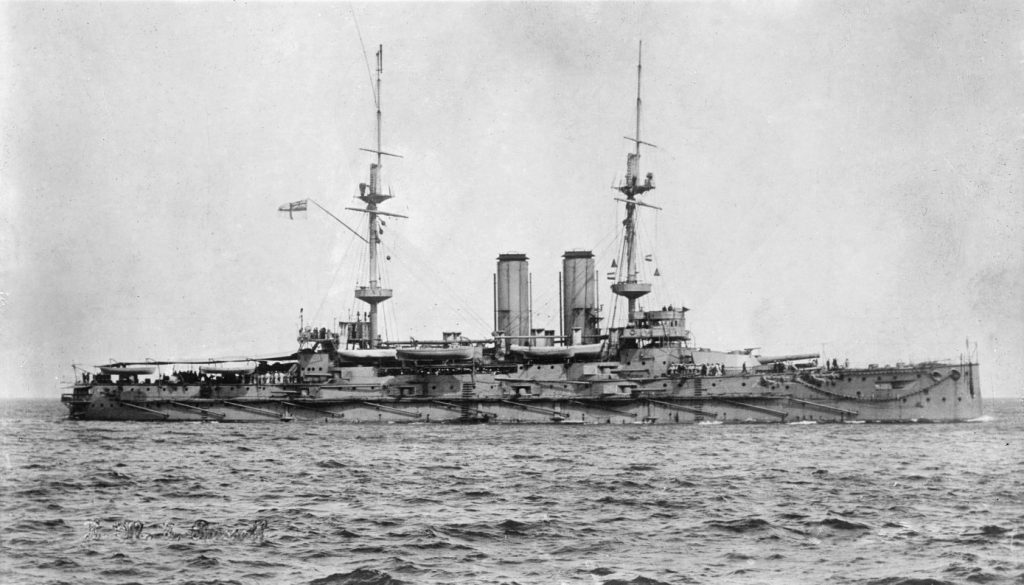 Na onderzoek dat me leidde naar de Britse oorlogsarchieven kon ik ook de handtekening ontcijferen van de kapitein, het gaat om "Capt. William Bowden Smith":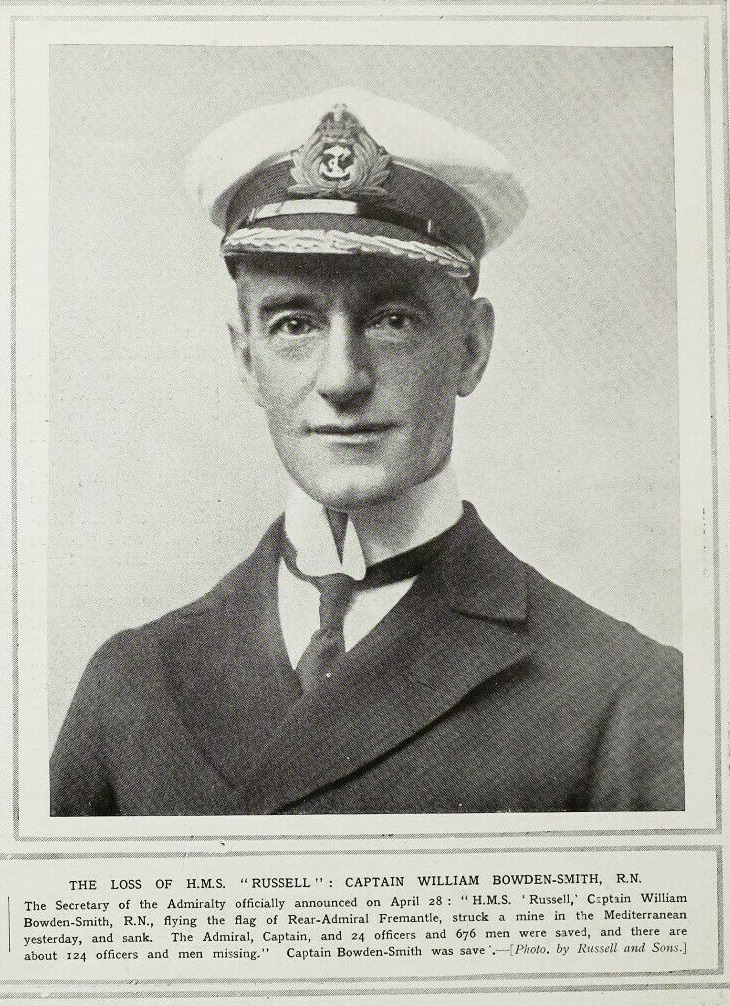 De tekst onder de foto verwijst naar het tragische lot van het schip in 1916:
"The Secretary of the Admirality officially announced on April 28: 'HMS Russel' Captain William Bowden-Smith, R.N., flying the flag of Rear-Admiral Fremantle, struck a mine in the Mediterranean yesterday, and sank. The Admiral, Captain, and 24 officers and 670 men were saved, and there are 124 officers and men missing". Captain Bowden Smith was save."
"Russell was steaming off Malta early on the morning of 27 April 1916 when she struck two naval mines that had been laid by the German submarine U-73. A fire broke out in the after part of the ship and the order to abandon ship was passed; after an explosion near the after 12-inch (305 mm) turret, she took on a dangerous list. However, she sank slowly, allowing most of her crew to escape. A total of 27 officers and 98 ratings were lost.
According to the naval historian R. A. Burt, insufficient internal subdivision, which limited the ability of the crew to counter-flood to offset underwater damage, contributed significantly to the loss of Russell and her sister Cornwallis, both of which listed badly before sinking.
The wreck was examined for the first time in 2003 by a British dive team; the ship lies at a depth of 63 fathoms (115 m) about 3.2 nautical miles (6 km) from the Delimara Peninsula. Her stern was blown off by the mine."
Verdere informatie:
+ Biografie William Bowden-Smith
+ Foto's van de kapitein als kadet
William was de zoon van W. Bowden-Smith of Brockenhurst, getrouwd en vader van twee kinderen. Hij overleed in 1962.
+ Kapiteins en schepen in de Royal Navy tijdens de Eerste Wereldoorlog